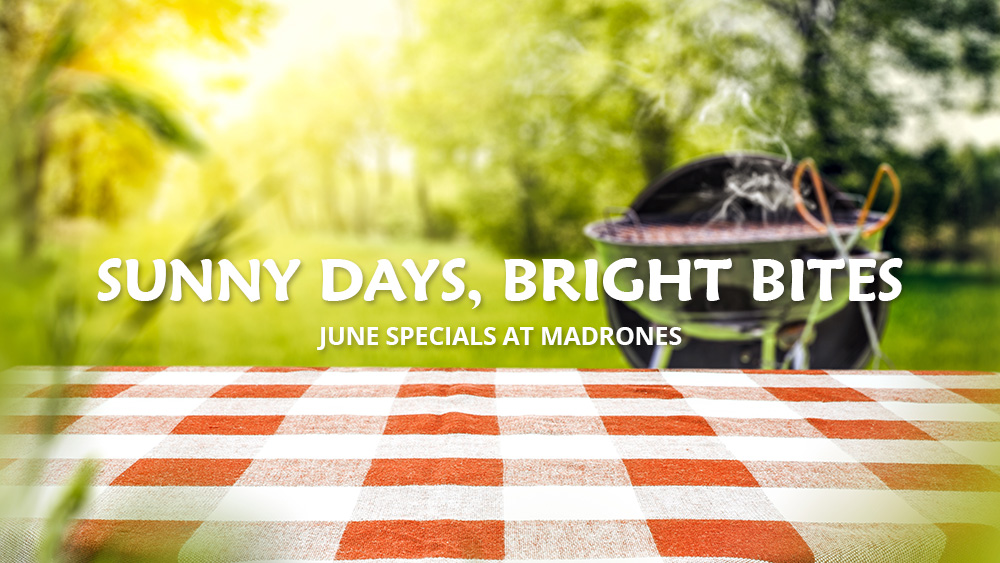 What's better than sharing a wonderful meal on a beautiful summer night with the people you care about most? Sharing that moment at Madrones with our bright bites for your sunniest summer days. Stop by Madrones this month for our New Orleans Spiced Shrimp appetizer, which will have you feeling like you just came from the beach. After licking your fingers clean, bring on the Chili Crusted Porterhouse Steak served with grilled portobello mushrooms. And start your summer vacation early with an IPA from Liquid Hero Brewery or our peachy drink of the month.
Starter Special:

New Orleans Spiced Shrimp Appetizer
Five JUMBO shrimp — shell and heads on and swimming in a spicy, buttery broth; served with a loaf of warm, crusty bread and lots of salted butter for dipping. (This is an eat-with-your-hands kind of dish.) 13
Entrée Special:

Chili Crusted Porterhouse Steak
Premium Black Angus Beef served with grilled portobello mushrooms, red onions and creamy Yukon mashed potatoes. 32.9
Beer of the Month:
Irregardless IPA (6.5%) — Liquid Hero Brewery
From York, PA, comes a Citra-hopped IPA that packs big citrus notes and tastes heavenly. "Irregardless" of whether you're a hop head or not, this West Coast style IPA contains the perfect amount of hops so that no one is left disappointed. 5 oz. 3.5, 12 oz. 6, 20 oz. 8
Drink of the Month:
Sun of a "Peach"
Made with peach-infused vodka, fresh lemon juice, sugar and a splash of Sprite, this drink will brighten your day and put a smile on your face in just one sip. 9
If you're looking to unwind with a glass of your favorite varietal, come in on Wednesdays for half-priced bottles.
We are proud to serve you! To say thank you, we are cooking up these delectable delights throughout the month of June. Enjoy the bright bites of summer with New Orleans Spiced Shrimp, Chili Crusted Porterhouse Steak, and a refreshing beverage. Grab a seat at Madrones for a meal that's sure to bring a smile.
From all of us at Madrones, we hope you enjoy our delicious June Specials.