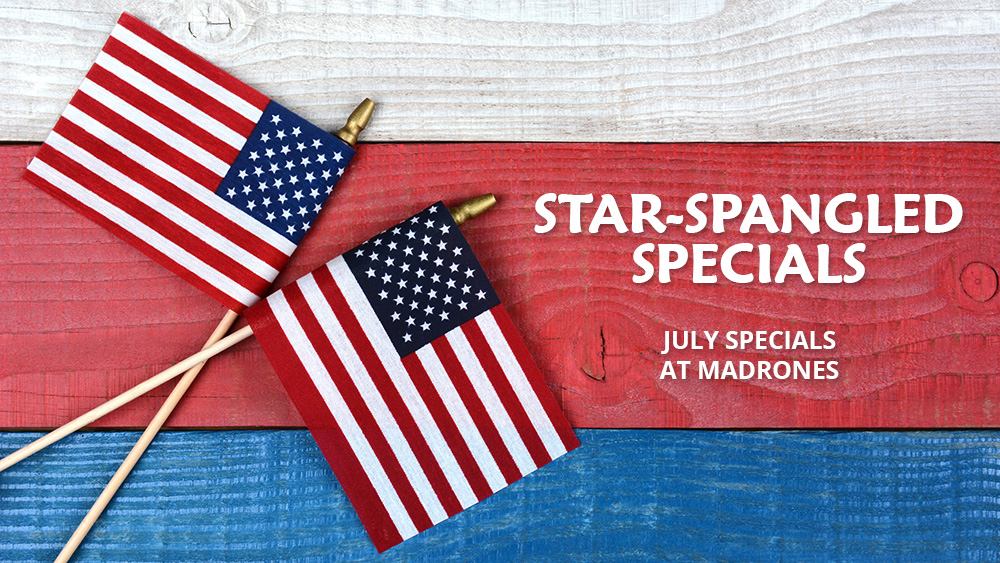 The booming fireworks, twinkling sparklers, and relaxing July nights with the ones we love remind us that there is no sweeter taste than the taste of American freedom. That's why we crafted a savory menu of July specials this month — to make the taste of American freedom just a little bit sweeter. Stop in anytime during the month of July to enjoy the specials listed below:
Starter Special:

House Guacamole
Made to order with tomato, serrano chilis, cilantro, red onion, lime and a pinch of salt. Served with hand-cut chips. 13
Entrée Special:

Beef Tenderloin, Seared Scallops, and Jumbo Shrimp
Two beef filet medallions, three large scallops and three jumbo shrimp seasoned and grilled over hickory and served with sautéed spinach, corn, button mushrooms and garlic mashed potatoes. Finished in a spicy brown butter sauce; comes with your choice of a Chop or Caesar salad. 28.95
Drinks of the Month:
Peach Mule
This drink will brighten anyone's day. Infused peach vodka, fresh lemon juice, sugar, and a splash of Sprite will bring a smile to your face with one sip. 9
Desert Pear Margarita 
Patron Silver, Solerno Blood Orange Liqueur, fresh squeezed lime juice and a combination of sweet pear with the fruit of the prickly pear cactus creates a sweet pear flavor. Served with a salted rim. 9
If you're looking to unwind with a glass of your favorite varietal, come in on Wednesdays for half-priced bottles.
Madrones wishes you and your family a safe and memorable Fourth of July and rest of the month. See you soon!