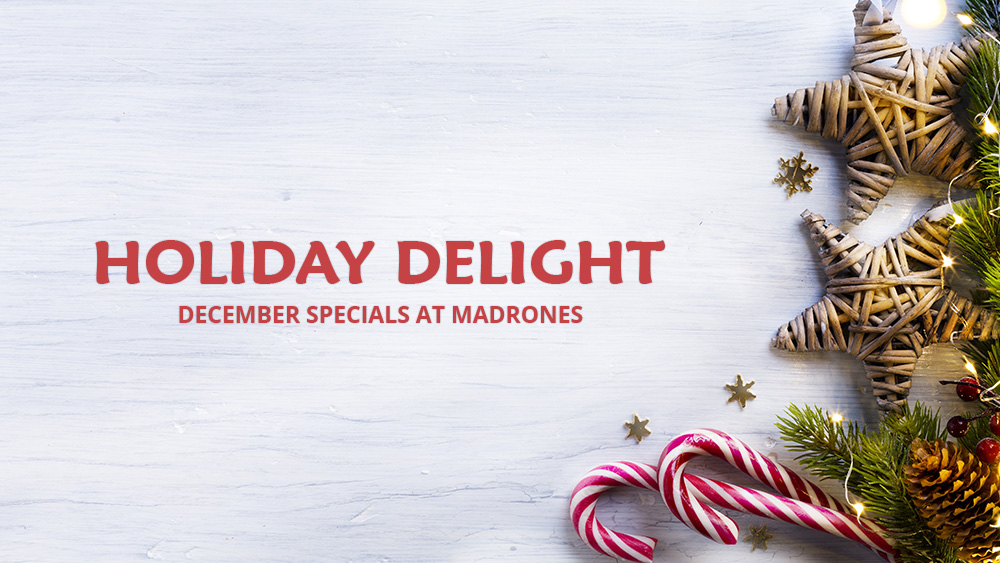 No matter what holiday you celebrate this month, we wish you a season full of quality time with your loved ones. To make the holiday season even more joyous, Madrones is offering the following specials for you and your family to enjoy together:
Aged New York Strip with Mushrooms and Madeira Wine Sauce
Grilled over seasoned hickory and topped with oyster mushrooms, triple crème brie cheese and Madeira sauce. Served with garlic mashed potatoes and your choice of a Caesar or Chop House Salad. 29
The "Hipster" Cocktail: Winter Citrus Sangria
Perfectly balanced with layers bright citrus flavors, smooth honey, and the fresh herbal notes of tarragon and rosemary. 9
"Retro" Classic Cocktail: Homemade Eggnog
Our family recipe that came from the kitchen, not from the store — Maker's Mark Bourbon, heavy cream, whole milk, eggs, vanilla, cloves, and nutmeg. 7
The entire staff at Madrones wishes you and your family a wonderful and safe month of December. We hope to see you soon!