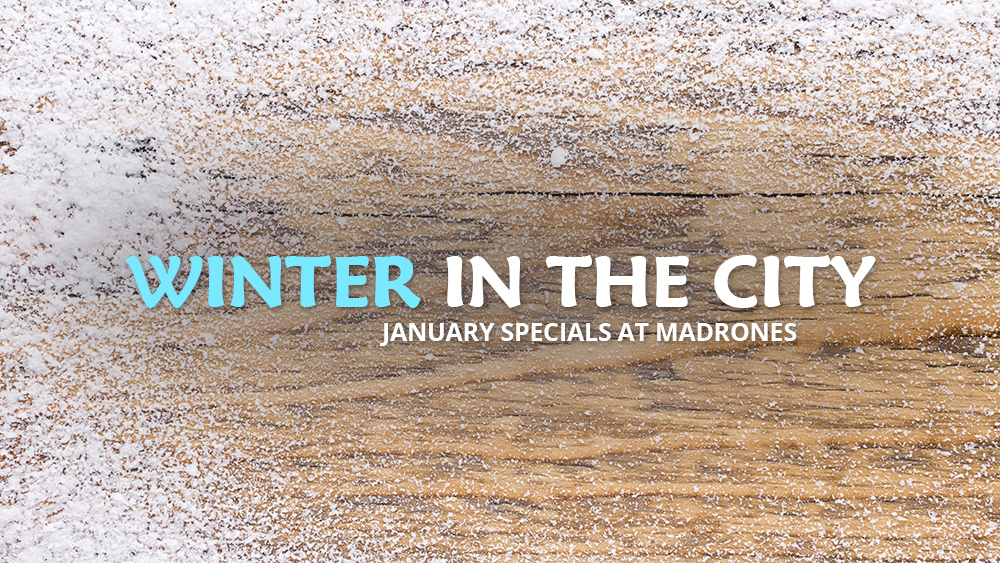 You've seen it in movies. Now, experience it for yourself in Frederick, Maryland: Winter in the city.
Surrounded by snowflake flurries and bundled up from head to toe, we hope you find your way home to Madrones this month. We're offering a tribute to the city of all cities, New York, with our prime aged strip and a little introduction to the home of Makers Mark bourbon distillery.
Entrée Special:

Prime Aged New York Strip 
Welcome to New York. Warm up with a strip grilled over seasoned hickory wood and topped with wild mushroom Madeira sauce and melted triple crème brie cheese. Served with garlic mashed potatoes and your choice of a Caesar or Chop House Salad. 29
Featured Cocktails:
It's not a winter in the city without a little liquid blanket. Sip on our smooth honey and bourbon cocktails this month.
The "Retro Classic": 

Winter Citrus Sangria 
This perfectly balanced drink has layers of bright citrus flavors, smooth honey, and fresh herbal notes of tarragon and rosemary. 9
The "Hipster": Whiskeylicious

 
Cheers to Loretto, Kentucky! This delicious blend of peach syrup and lime juice is mixed with the full body flavor of Makers Mark Bourbon. 9
If you'd rather walk in a winter wonderland with a wine glass, stop by on Wednesdays for half-priced bottles.
Whether you're staying in Frederick for a winter staycation or traveling to a new city for a seasonal getaway, we hope you stop by this month for our specials. Where else can you experience New York, Kentucky, and a little bit of home?
From all of us at Madrones, we hope to see you soon.