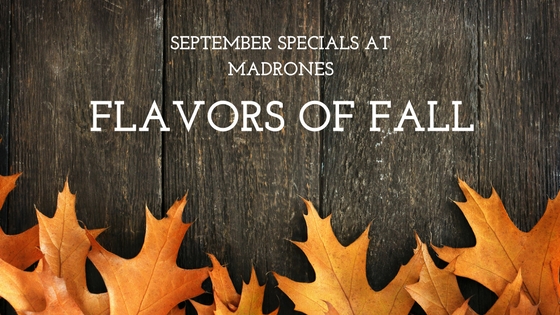 While you have to wait until Sept. 22 for the official First Day Of Fall, Madrones is celebrating the season all month long with a seafood dish that's as beautiful as the changing leaves in New England. We're also featuring a local whiskey to warm you up for the crisp weather, and our bartenders are squeezing out the last bit of peach season in a yummy sangria.
Entrée Special:

Grilled Sea Scallops Over Seafood Risotto
Sea scallops grilled over hickory wood, seared to medium. Accompanied by pieces of Langostino lobster, shrimp, and crab sautéed in a spicy, creamy risotto rice with grilled asparagus and fresh corn. Served with your choice of Caesar or Chop House Salad. 25.95
Featured Cocktails:
To prep for the cooler weather and crunchy leaves, Madrones is serving up your first taste of apple cider and your last sip of summer sangria.
The "Retro Classic": 

Apple Bourbon Cider
This delicious blend of Sagamore Spirit Rye Whiskey and fresh-pressed apple cider arrives just in time for fall leaves and apple picking. 8.5
The "Hipster": 

White Peach Sangria 
This fruity sangria is full of peach flavors — perfect for a sunny or rainy fall day! 8.5
If you prefer wine for your fall picnics and get-togethers, stop by on Wednesdays for half-off bottles.
Who says fall is only about pumpkin spice this and that? We're indulging in all flavors of the season with delicious seafood, sweet apple cider (and whiskey), and peach sangria.
From all of us at Madrones, happy fall! We hope to see you soon.