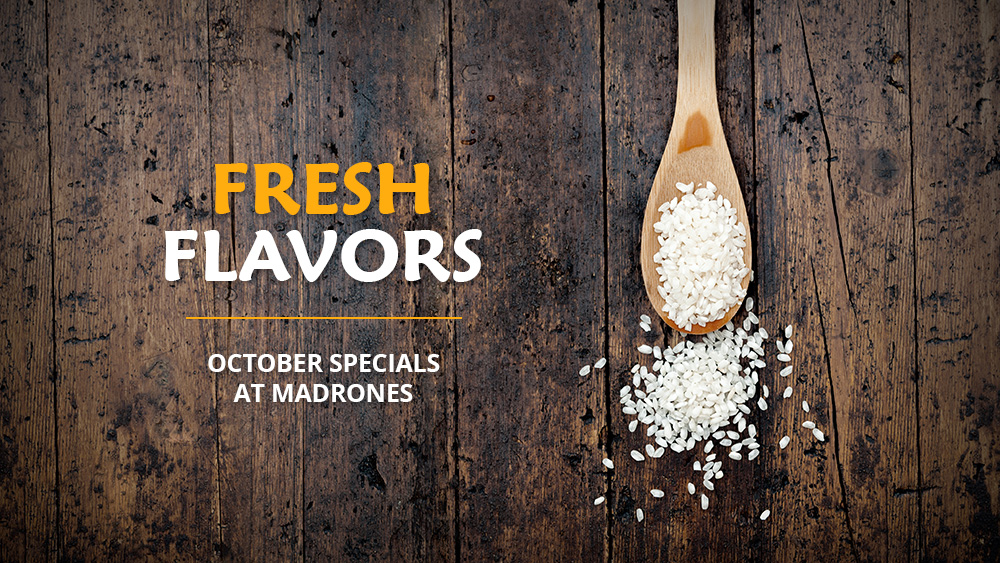 Nothing is fresher than real ingredients. Our October specials include our popular house guacamole with fresh cilantro and lime, a seafood special with sustainable scallops and shrimp, and cool cocktails with seasonal fruit. Try our newest specials, and tell us what you think on Facebook!   
Starter Specials:
House Guacamole
Hand-cut chips, tomato, serrano chiles, cilantro, red onion, lime, and a pinch of salt. 13
Entrée Special:

Blackened Sea Scallops Over Seafood Risotto 
Blackened sea scallops seared to medium and sautéed in spicy brown butter sauce. Served over a bed of creamy risotto rice with grilled asparagus and fresh Langostino lobster, shrimp, and crab. With your choice of Caesar or House Chop Salad. 27.95
Featured Cocktails
Bourbon, vodka, and rosé all day. The best part of these cocktails are the fresh fruit, cane sugar, and spices to complement the other natural flavors.
Lynchburg Lemonade
A Southern classic made with Jack Daniels Tennessee Bourbon, vodka, and sour mix. 9
Rosé Sangria
Our sangria is made with sparkling rosé, Chambord Black Raspberry Liqueur, Knob Creek Bourbon, strawberries and blueberries, cane sugar, and spices. 9
If you prefer red or white wine, stop by on Wednesdays for half-off all bottles.
Madrones always uses real ingredients for the freshest flavors in Frederick, Maryland. From our house-made guacamole to our seafood risotto, these October specials are bursting with freshness.
From all of us at Madrones, we looking forward to seeing you soon.