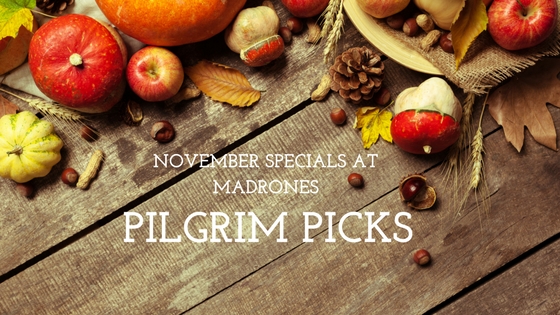 Butternut squash soup and maple flavors are last fall. Madrones is revamping classic autumn dishes with barbecue, coconut, and a touch of Mexican spice. Check out our taco entrée and two featured cocktails that'll kick pumpkin to the curb this month.
Entrée Special:

Barbecue Rib Tacos & Caramelized Butternut Squash
Believe it or not, Madrones famous hickory fall-off-the-bone ribs are a great addition to your fall menu. Grilled with caramelized traditional butternut squash and balsamic onions, our ribs are stuffed in a soft tortilla and topped with feta cheese, pico de gallo, cilantro, habanero BBQ sauce, and creamy avocado tomatillo sauce for a new twist. This dish is served with Mexican-style street corn. 18
Featured Cocktails:
Make your Thanksgiving a little sweeter with maple and bourbon flavors — maybe even a little coconut?
The "Retro Classic": 

Smoked Maple Manhattan
Knob Creek Maple Bourbon, sweet vermouth, and bitters are shaken over ice and served with a maraschino cherry. 9
The "Hipster": 

Coconut Tequila Martini 
Double-distilled 1800 Silver Tequila is infused with natural, ripe coconut flavor and served with fresh piña colada. Garnished with toasted coconut, this martini will definitely take your mind from crisp leaves to white sands. 9
If you prefer sipping on vineyard-fresh grapes for Thanksgiving, stop by on Wednesdays for half-priced bottles of wine.
Instead of indulging in classic pilgrim picks like turkey and mashed potatoes, stop by Madrones for a spicier menu that revitalizes traditional fall ingredients like butternut squash and maple. We hope to see you soon!