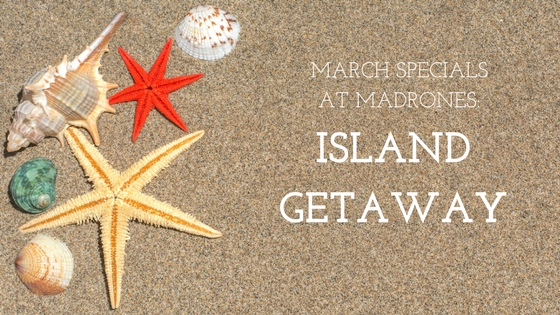 The warm weather is finally creeping up on Maryland. To celebrate the sun shining and birds chirping, Madrones is offering a menu of island-themed specials that'll make you wish for a hammock nap with a coconut in hand. We're giving you a spicy entrée from the sea and a pair of pineapple-infused cocktails, so you have everything you need to set sail to your dream destination this month.
Entrée Special:

Hickory Grilled Tenderloin Medallions over Spicy Langostino Lobster Risotto

Tenderloin medallions are blackened over hickory wood, seared to medium. Accompanied by pieces of fresh langostino lobster, this dish is sautéed in a spicy, creamy risotto rice with grilled asparagus. Talk about a catch of the day. 25
Featured Cocktails:
What's an island getaway without rum? We took a hint from Captain Jack Sparrow to include a few of his favorite dark liquors.
The "Retro Classic": Zombie  –

Not one, not two. Three types of Myers's rums are combined with pineapple and lime juice and blended with cinnamon spices to create a drink that will make you see waves. 8
The "Hipster": Electric Shark –

The only spring break shark attack you need to worry about is a delicious combination of Captain Morgan Spiced Rum, pineapple juice, and refreshing ginger beer. 8
If you prefer wine on your oceanic adventures, stop by on Wednesday for half-priced bottles of any wine.
March might be a little early to set out your beach chair and start tanning, but nothing says warm weather like fresh lobster paired with a tall pineapple, rum, and lime cocktail. Or maybe you'd rather try our Jaws-inspired drink. Whichever combination you choose, we hope to whisk you away to breezy beach.
From all of us at Madrones, happy island-hopping. We hope to see you soon.