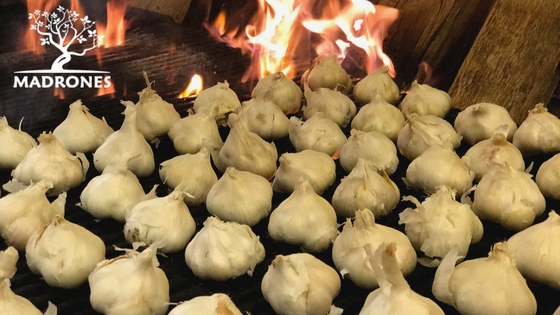 Need another idea for your holiday menu that feeds ten people? Madrones is giving you a sneak peek into our kitchen, so you can make one of our most famous yuletide side dishes, Garlic Mashed Potatoes, for your dinner table.
Ingredients: 
5 lb. red potatoes
3 oz. roasted garlic bulbs
1.5 cups heavy cream
1/2 lb. butter
1.5 tbsp. kosher salt
Pepper, to taste
Instructions:  
Set the oven to 350 degrees Fahrenheit. (At Madrones, we roast our garlic on the grill, but you can easily roast it in your home's oven.)
Cut the top end of 7 garlic bulbs open, and line them up on a baking dish.
Drizzle oil, salt, and pepper over the garlic.
Roast in the oven for about 45 minutes or until the garlic bulbs become brown and soft.
Remove from oven, and allow it to cool.
After the bulbs cool, squeeze the garlic out and into a small bowl. Set aside for later.
In a large pot, boil enough water to cook five pounds of red potatoes.
Put in potatoes, and wait until you can easily push a fork into the potato.
Drain the potatoes, and put into a large mixing bowl.
Add butter, salt, and garlic to the potatoes.
Start the mixer on low, and slowly mix in the heavy cream.
Turn the mixer to high, and mix until the potatoes are smooth and creamy. (At Madrones, we mash the potatoes several hours before in a Crock-Pot and reconstitute with butter and cream.)
Remember: Madrones will be closing early on December 24, and we'll be closed on December 25. If you miss us (and you're ready to step up your cooking game for the holiday season), try out this classic recipe from our chefs in your kitchen! You can even tag us on Facebook with your results, and we'll get back to you after we're done celebrating the season.
From all of us at Madrones, happy holidays!