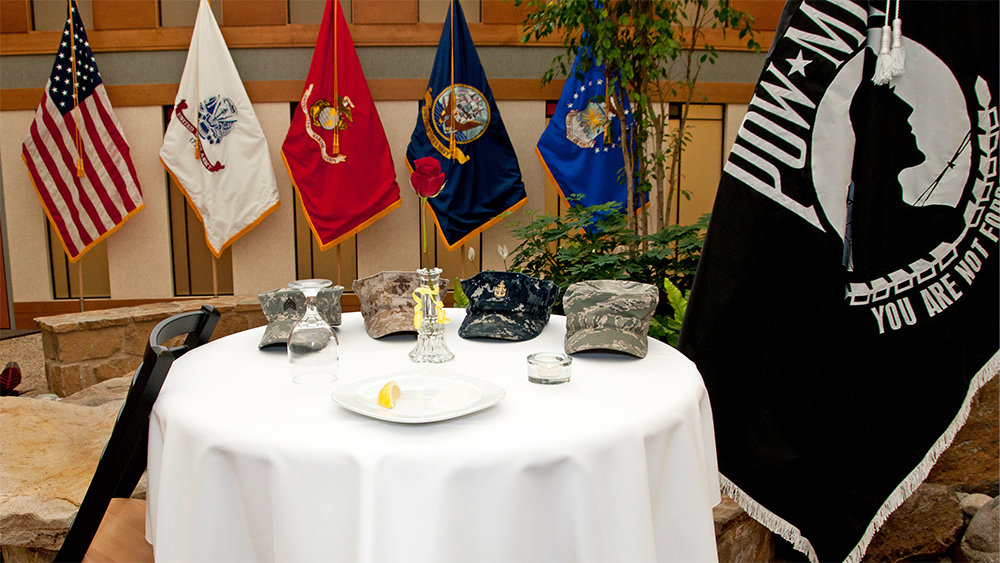 Madrones is honoring our military forces with the Missing Soldier Table event from May 25 to 29, 2017.
The Missing Man Table, also known as the Fallen Comrade Table, is a place of honor and serves as the focal point of ceremonial remembrance, originally growing out of U.S. concern for Vietnam War Prisoner Of War/Missing In Action soldiers.
A small table is typically set for one symbolizing the frailty of one isolated prisoner — no matter the branch or rank. The empty chairs are for the missing and fallen who aren't present while the table's roundness represents everlasting concern from survivors for their missing loved ones.
The table's decor carries its own meaning. A white tablecloth symbolizes the purity of the soldier's intentions to respond to our country's call to arms while a single, vased red rose signifies the bloodshed that many have sacrificed to ensure our freedom. The rose also reminds the family and friends of our missing comrades to keep faith while awaiting their return.
A black napkin stands for the emptiness felt by the hearts of families and friends of these lost soldiers. Occasionally, a Purple Heart medal is pinned to the napkin and a folded American flag and/or Bible is present.
A red ribbon (or yellow ribbon for Air Force ceremonies) represents love for the United States, and a slice of lemon on a bread plate symbolizes the missing soldiers' bitter fate. Salt sprinkled on the bread plate represents the fallen tears from families, and an inverted glass symbolizes the fact that the missing and fallen cannot partake.
Additionally, Madrones is celebrating Memorial Day by offering a 40 percent discount* to only active duty men and women as well as veterans and spouses of a deceased soldier on May 29, 2017. We'll accept the following forms of identification:
Common Access Card
State-issued veterans designation on a driver's license or ID card
State Veterans Identification Cards (VIC)
County Court House- or Clerk Office-issued VIC
Department of Veterans Affairs VIC
ID cards for eligible family members of living and deceased retired soldiers
Photo in uniform
Dressed in uniform
Help us celebrate and honor those who have fought so hard to keep us safe and free by attending our Missing Soldier Table event. From everyone at Madrones, thank you. We look forward to seeing our friends in uniform.
*Note: We're offering one discount per person.