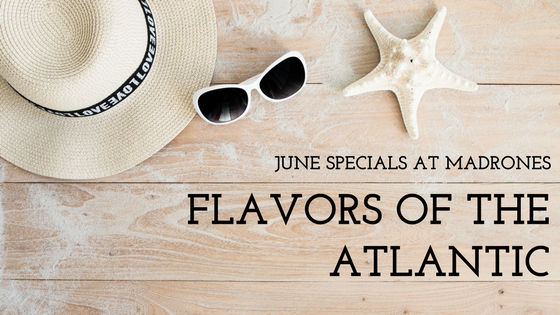 When it comes to summer travel plans, we hope you get the chance to travel all over the Atlantic. If not, you can stop by Madrones for our June specials, which includes a taste of Maine in a traditional Bar Harbor Lobster Roll and a duo of drinks that combine two of the greatest names on the East with a few sweet juices.
Entrée Special:

Bar Harbor Lobster Roll
We're giving you traditional Maine lobster salad on a grilled roll with crispy fries and roasted corn on the cob. 19.9
Featured Cocktails:
When it comes to Atlantic cocktails, it doesn't get better than Jamaican rum with the Maryland name — until we had a summer sipper that'll satisfy your sweet tooth.
The "Retro Classic": 

Black-Eyed Susan
Named after Maryland's state flower, this drink is a mix of Myers's Original Dark Rum and juice. 8.5
The "Hipster":

Pink Lemonade
Smirnoff Citrus vodka, lemon lime soda, and mixes make this spiked drink a summer staple. 7
If you prefer to spend your summer drinking fine wine, stop by on Wednesdays for half-off bottles.
From Northern Maine to the Caribbean island of Jamaica (with a stop in our home state), Madrones June specials encompass the best of the Atlantic. Stop by to grab the best seafood dish of the summer, and pair it with a little lemonade kick.
From all of us at Madrones, we hope to see you soon!