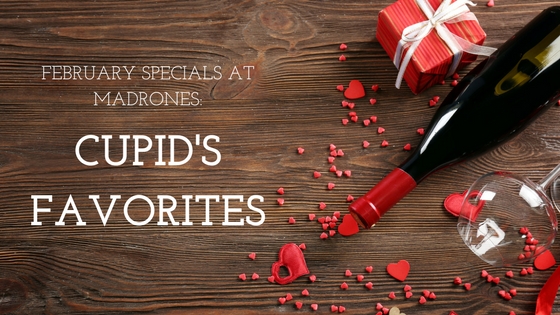 Instead of chocolate-covered strawberries and hard candy (or bacon bouquets, if you're a real pro), visit Madrones for the sweetest (and spiciest) Valentine's Day dishes and drinks for you and your loved one. We're giving you a seafood entree fit for your king or queen with a duo of ambrosial cocktails that'll make you say "be mine."
Entrée Special:

Hickory Grilled Salmon over Spicy Langostino Lobster Risotto

Atlantic salmon is blackened over hickory wood, seared to medium. Accompanied by pieces of langostino, this dish is sautéed in a spicy, creamy risotto rice with grilled asparagus. Talk about everlasting love. 25
Featured Cocktails:
Our bartenders are serving up passion in a cup with two martinis that'll lead to sticky kisses and flirtatious winks.
The "Retro Classic": French Kiss Martini  –

Pineapple-infused vodka for a French kiss martini? Yes, please! This beautiful cocktail is elegant, sassy, and sweet. Pucker up. 8.5
The "Hipster": Chocolate Lovers –

Godiva and Kahlua liqueur are deliciously blended and chilled with fresh cream. It's the perfect drink to keep the sparks flying. 8.5
Whether you're on a blind date or meeting a secret admirer, don't worry about setting the mood. These monthly specials are sure to please the palate of long-lost lovers and committed couples alike. Take your February 14 up a notch with Cupid's favorites.
From all of us at Madrones, happy Valentine's Day. We'll set a table for two.