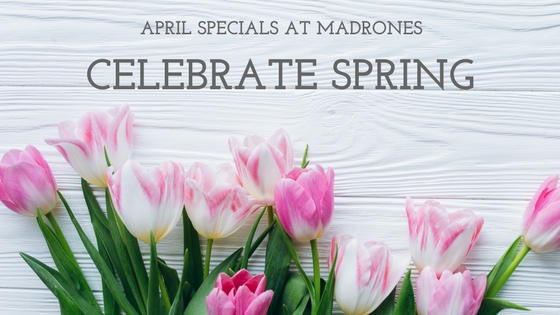 Blooming flowers? Chirping birds? Longer, sunny days?

Yes please.
At Madrones, we're celebrating spring's arrival with a savory, hot-off-the-grill entrée and a pair of sweet and fruity drinks to top it all off. If you're ready to join in the festivities, stop by anytime this month for this menu:
Entrée Special:

Steak And Lobster Rustica
What's better than smelling the roses? Smelling two tenderloin medallions blackened over hickory wood, seared to medium. This dish is served over spicy Alfredo and pieces of langostino lobster with fresh spinach, sun-dried tomatoes, and grilled asparagus. 24
Featured Cocktails:
Nothing beats a cool drink on a warm day, especially that first 65-degree day of the year. Get ready to indulge in these fruity cocktails on the rocks:
The "Retro Classic": Greyhound  –

This traditional, delightful blend of Grey Goose Vodka and grapefruit juice may have you skipping through the meadows. 8.5
The "Hipster": Blood Orange Margarita –

Freshly squeezed lime juice is sweetened with cane sugar, silver tequila, and Solerno Blood Orange Liqueur to create an irresistible drink. 8.5
If you prefer wine during your frolicking, stop by on Wednesday for half-priced bottles of any wine.
Before you go chasing butterflies and flying kites in celebration of the sun shining, stop by Madrones for this limited-time menu. Nothing says spring like a grilled melt-in-your-mouth steak with a cool drink.
From all of us at Madrones, we looking forward to celebrating with you soon!