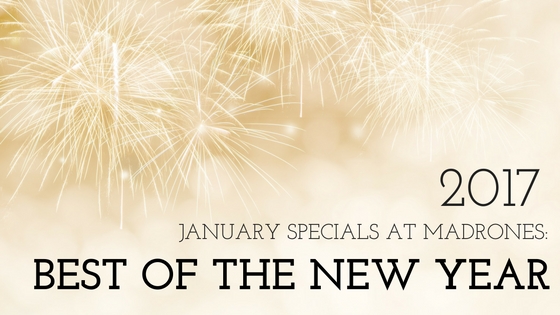 Thanks to you, Madrones had an amazing 2016. We said hello to friends — old and new, cranked out some fantastic new recipes, and got nominated for Frederick Magazine's Best of Frederick again. Because we couldn't have done it without you, we're giving you our best dish and clink-worthy cocktails for you to ring in the New Year.
Entrée Specials:

Grilled Salmon with Pasta Pesto, Baby Shrimp, and Balsamic Glaze

Say hello to 2017 with one of our favorites. We hickory grill salmon over linguini with sautéed baby shrimp, baby spinach, then toss it with pesto and serve over a balsamic glaze. Topped with balsamic-soaked Roma tomatoes and freshly grated Reggiano cheese, start your clean palate with this seafood delicacy. 20.9
Featured Cocktails:
It's time to store away the pop and fizz of New Year's bubbly and wind down with a few of our classic brunch drinks. After all, what better cure for a night out than a Bloody Mary or mimosa?
The "Retro Classic": Hickory Smoked Bloody Mary  –

Featuring Maryland's Old Bay vodka and our bartenders' special blend of spices, it's garnished with celery and a slice of applewood bacon. Order it spicy or extra spicy for brunch. 5
The "Hipster": Apple Cider Mimosa –

Celebrate the New Year with our Apple Cider Mimosa! A delicious mixture of local apple cider and champagne, guests can add a shot of Crown Royal Regal Apple Whiskey (add 2) or a shot of Smirnoff Vanilla Vodka (add 1). Each will leave you satisfied. 5
From our local twist on the mimosa and Bloody Mary to a seafood dish that's perfect for that healthy eating resolution, we're giving you the best of our menu because you gave us the best year yet.
From all of us at Madrones, see you soon.