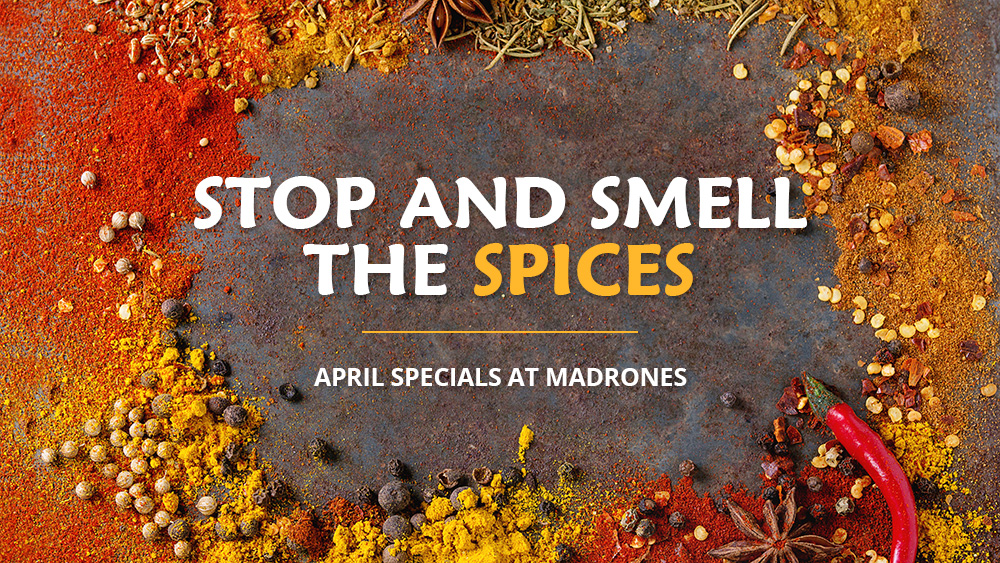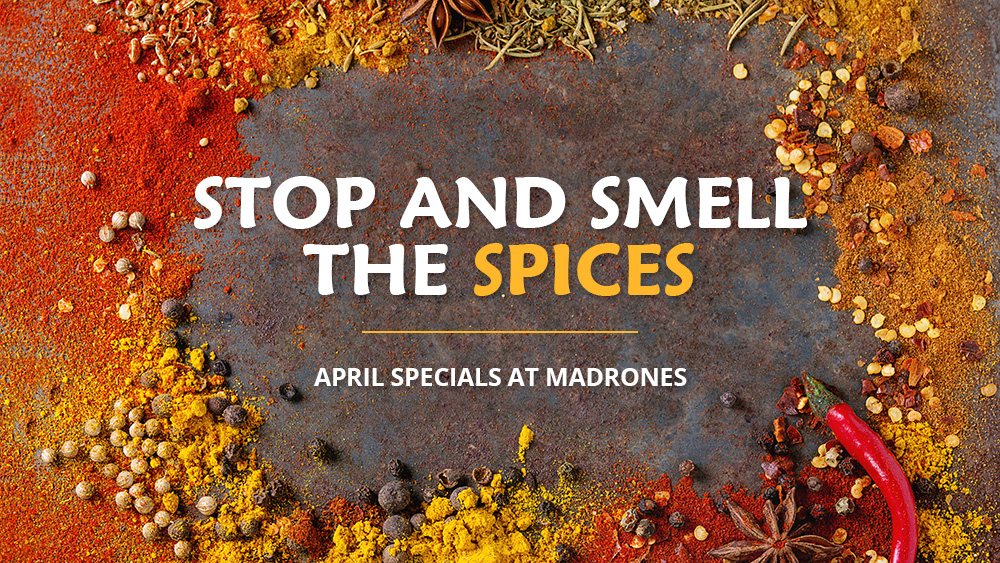 If you're stopping to smell the roses this spring and your mouth starts watering, you could just be smelling the spices from our April Specials. Visit Madrones this month for a New Orleans spiced shrimp appetizer to start the party. After tasting the Cajun flair, enjoy a flavorful feast with our aged and blackened prime rib with house au jus entree. If your sweet tooth starts acting up, try our Walnut Apple Cobbler topped with caramel-walnut sauce and vanilla ice cream.
Bring the flavors together with an Arrogant Bastard American Strong Ale by Stone or an Aperol Italian Spritz.
Starter Special:

New Orleans Spiced Shrimp Appetizer
Bold, spicy, buttery and messy. Jumbo shrimp with shell and heads on swimming in a copious amount of spicy butter broth, served with warm crusty bread and lots of salted butter. This is an eat-with-your-hands kind of dish. 14
Entrée Special:

Aged Prime Rib, Blackened and Served with House Au Jus
Enjoy our tender aged prime rib with a flavorful house Au Jus. Includes your choice of Caesar or Chop salad and loaded baked potato. 10 oz. 24, 16 oz. 31, 20 oz. 34
Dessert Special:

Walnut Apple Cobbler
Bubbly cinnamon apple cobbler topped with a caramel-walnut sauce and vanilla bean ice cream. 8
Featured Cocktails:
If you're looking for a complete, all-around brew to welcome in spring, try our American strong ale from Stone. If you're in need of something refreshing to beat the warm weather, try our Aperol Italian Spritz with just the right amount of sweetness and bitters.
Arrogant Bastard – Stone (7.2%) – American Strong Ale
Brought forth upon an unsuspecting public in 1997, Arrogant Bastard Ale openly challenged the tyrannical overlords who were brazenly attempting to keep Americans chained in the shackles of poor taste. A complex brew that has more malt than an IPA, but still with a big hop bill. 5 oz. 2.5, 12 oz. 5, or 20 oz. 8
Aperol Italian Spritz
A light and refreshing Italian aperitif with the perfect balance of sweet and bitter. 8
If you prefer a glass of full-bodied wine, we didn't forget you. Come in on Wednesdays for half-priced bottles.
We are grateful to you for choosing Madrones! To show our appreciation, we are offering these flavorful specials throughout April. Come on in for New Orleans Spiced Shrimp, Aged Prime Rib, and Walnut Apple Cobbler. If you're just passing by, make sure you stop in and smell the spices.
From all of us at Madrones, we can't wait to see you soon.