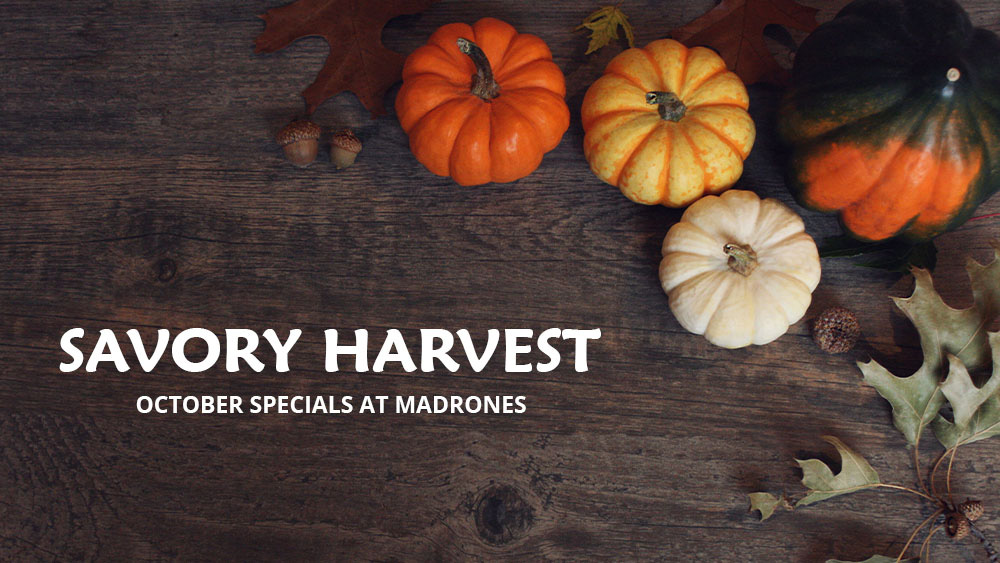 It's that time of year. The evenings are getting shorter, the air is getting crisper and the leaves are beginning to take on a new color. Before we know it, Halloween will be here and October will have passed. As autumn fully sets in, take an afternoon to stop by Madrones and indulge in our savory October specials:
Blackened Sea Scallops over Seafood Risotto
Blackened sea scallops seared to medium. Served over a bed of creamy risotto rice with grilled asparagus, fresh langostino lobster, shrimp, crab, and sautéed in a spicy brown butter sauce. Served with your choice of a Caesar or Chop House Salad. 27.95
The "Hipster" Cocktail: Lynchburg Lemonade
A southern classic made with Jack Daniel's Tennessee Whiskey, Tito's Handmade Vodka and sour mix. 9
"Retro" Classic Cocktail: Desert Pear Margarita
A new spin on a timeless classic. Our margarita is made with Desert Pear Syrup, agave organic nectar, Patron Tequila and sweet & sour mix. 9
Enjoy this month full of crisp fall evenings and festivities with your family. Our staff hopes to see you soon!
Visit our website to reserve a table or be added to our call-ahead waiting list.