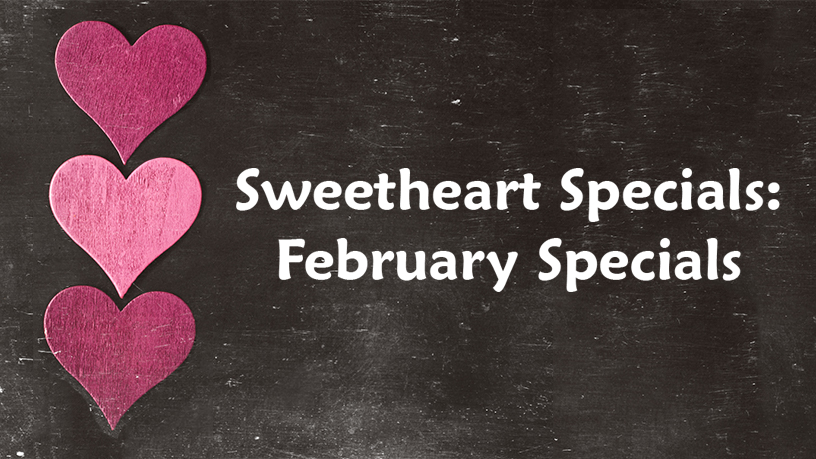 February is synonymous with Valentine's Day, and Madrones has a full menu dedicated to the Hallmark holiday. We're giving you a delicious dinner that's followed by the sweetest cocktails and a special dessert for chocolate lovers. Check out February's specials:
Entrée Special:

Hickory Grilled Filet Mignon Medallions, Scallop & Shrimp 
Over sautéed spinach, corn, button mushrooms, and garlic mashed potatoes. Finished in a spicy butter sauce. 26
Featured Cocktails:
If you're ready to pucker up this holiday, check out our sassy cocktails that feature sweet infusions and satisfy chocolate cravings.
The "Retro Classic": 

French Kiss Martini 
This beautiful cocktail is elegant, sassy, and super sweet. Fresh-infused pineapple vodka and Chambord liqueur make this cocktail kissable and sexy. 9
The "Hipster": Chocolate Lovers

 
Godiva chocolate and coffee-flavored Kahlua liqueur are deliciously blended with vodka and fresh cream. Chilled and creamy, this is the perfect drink for romantic lovers. 9
If you'd rather celebrate your love with red or white wine, stop by on Wednesdays for half-priced bottles.
Dessert Special:
The Chocolate Legend
Plenty for two lovebirds! Layer after layer of dark, moist chocolate cake is sandwiched with silky smooth chocolate filling and piled high with chunks of chocolate cake. It's a slice of the deepest, richest, most heavenly chocolate cake that you've ever tasted. 8.4
Add a scoop of ice cream. 1
Whether it's a first date, flying solo, or celebrating an anniversary, we've got the perfect menu for Valentine's Day. Check out our mouthwatering entrée, sweet cocktails, and a special dessert just for the occasion.
From all of us at Madrones, we looking forward to celebrating with you soon.