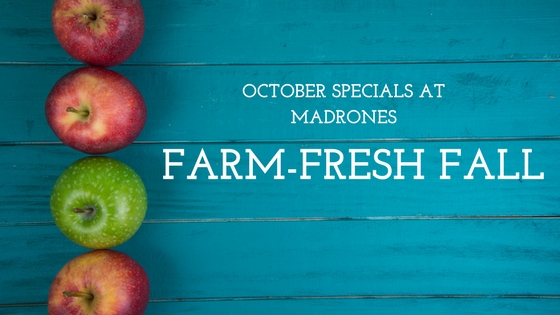 Have you ever seen a farm during the fall season? The brisk sweater weather complements the gorgeous bounty that often includes ripe peaches, full pumpkins, and sweet apples. While we fill our special cocktails with fall fruit, we're using delicious year-round ingredients, like onion and cheese, to accompany our angus steak entrée.
Entrée Special:

Ancho Crusted Porterhouse Steak (Premium Black Angus Beef – Creekstone Farms, KS)
Served with an in-season portobello mushroom and stuffed with sautéed spinach, grilled onions, and Swiss cheese; topped with Parmigiano. 32.9
Featured Cocktails:
Fall isn't complete without delicious, crisp fruit. Our bartenders are mixing oranges, peaches, and pumpkin for two to-fall-for drinks.
The "Retro Classic": 

Iced Pumpkin Spice Latte
Pumpkin is a fall staple. That's why we're giving it special treatment by combining pumpkin spice, iced coffee mix, Baileys Irish Cream, and Ketel One Vodka to make an irresistible, fresh combination. 8.5
The "Hipster": 

Bourbon Peach Fuzz 
This bit of peachy perfection is ideal for an autumn adventure. Enjoy smooth Maker's Mark bourbon whiskey, peach schnapps liqueur, freshly squeezed orange juice, and tangy lemon-lime soda. 8.5
If you prefer sipping on vineyard-fresh grapes, stop by on Wednesdays for half-priced bottles of wine.
Nothing beats farm-to-fork meals, and Madrones is always on par with seasonal fruits, corn-fed meat, and other fresh ingredients. To see for yourself, visit us for this month's delicious specials! We look forwarding to seeing you soon.